[Good News] Warmly congratulate UltraClean Membrane Co., Ltd. "High-end reverse osmosis membrane and nanofiltration membrane project" for winning the first prize of "New Materials, New Technology, New Process" in the "Three New Three Small" innovation competition in Shanxi Province.
This competition is jointly sponsored by Shanxi Science and Technology Association, Shanxi Provincial Department of Industry and Information Technology, and State-owned Assets Supervision and Administration Commission of Shanxi Provincial People's Government. It encourages the practice of "new technologies, new processes, new materials" and "small Inventions, small innovations, and small transformations" achievements, promote the transformation and application of scientific and technological achievements, and help enterprises to innovate and develop.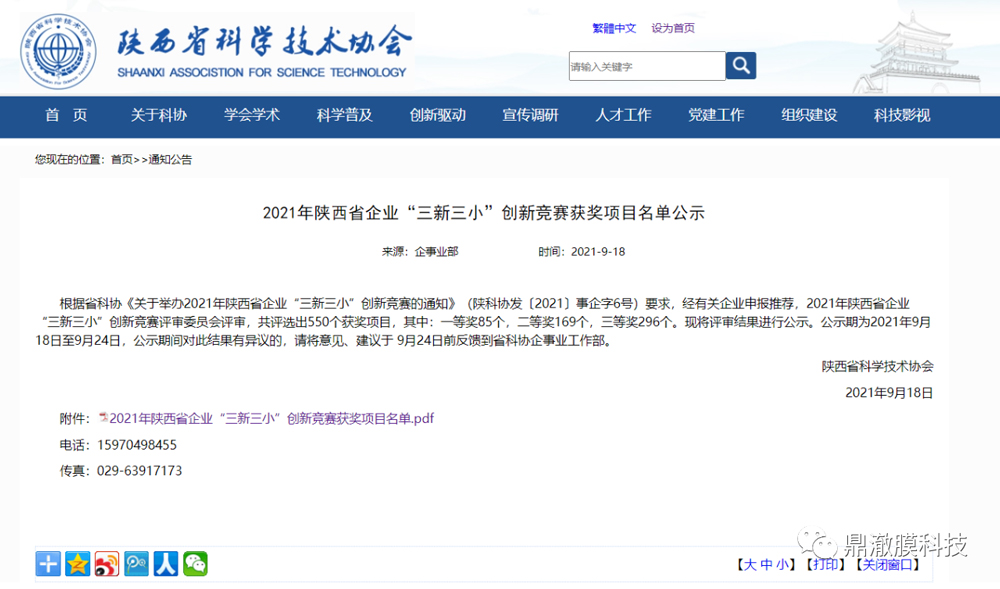 The "Three New Three Smalls" innovation competition is to thoroughly implement the important speech of General Secretary Xi Jinping's visit to Shanxi, thoroughly implement the relevant spirit and requirements of the Provincial Party Committee's "promoting the spirit of patriotic struggle and building a new era of meritorious service", guide enterprises to innovate and create, and create an innovative atmosphere , disseminate innovative methods, stimulate the enthusiasm of front-line scientific and technological personnel for innovation, help Shanxi integrate science and technology with economy, and connect innovation achievements and industrial development to promote the development of high-quality economic to higher steps.
The jury of the "Three New Three Smalls" spoke highly of the innovative technology and process of UltraClean Membrane Technology's "high-end RO and FO membranes project", and unanimously praised the company's innovative development achievements. It is the recognition to the strength of UltraClean Membrane Technology's research and development in the water field, the cultivation of top high-end talents, the ability of independent research and development, and the development of advanced technology. After the unanimous research and decision of the judges, UltraClean Membrane Technology won the first prize of "New Materials, New Technologies, New Processes". This indicates that UltraClean Membrane Co., Ltd. will have a deeper guiding significance for mutual learning and innovation, mutual learning and exchange, and mutual learning and development in the future enterprise development process, and the products will endow more innovation.