Product Description
With good wear and chemical degradation resistance, the membrane element does not need postprocessing during the manufacturing. It tolerates a wide range of pH, which enables more efficient and rougher cleaning using regular acid and base, therefore it has high cleaning efficiency. The membrane system can operate in long term under lower pressure due to thorough cleaning, therefore the membrane performs better during its service life. It can significantly reduce operation costs, and bring the best long-term economy to the seawater desalination system.
Products Highlight
High rejection rate of salts
High compression and fouling resistance and high cleaning efficiency
Cost-saving of seawater desalination system
Application
● Pure water system
● Chemical RO filtration
● Desalination of brackish water
● Food and beverage wastewater
● Power plant boiler make-up water
● Medical reverse osmosis filtration system
About this item
◆ HIGH QUALITY MEMBRANE: Features highest flow rates available to meet the water demands of both land and sea based desalinates, offering a high efficiency while providing a superior quality of water for your household or business to consume and enjoy.
◆ FRESH TASTING WATER: The Reverse Osmosis Replacement Membrane cleans your water by removing heavy metals, inorganics and volatile organics and other harmful chemicals that produce distasteful and smelly odors.
Features of RO Membrane 8040
● RO Membrane 8040 elements are high and stable desalination rate;
● RO Membrane 8040 membrane are high pressure resistance and anti-pollution;
● Suitable for desalination of raw water with a salt content of 15000-40000ppm;
● Widely used in seawater desalination and high-salt wastewater reuse treatment;
● Desalination RO elements work in low operating pressure, saving RO system cost;
Membrane Performance Specification
| | |
| --- | --- |
| Active Area ft²(m²) | 365 (34) |
| Permeate Flow Rate GPD(m³/d) | 6700 (25) |
| Min Rejection(%) | 99.7 |
| Average Rejection(%) | 99.8 |
Test conditions: inlet pressure 5.5 MPa (800 psi); inlet temperature 25°C (77°F); inlet water quality 3200ppm NaCl; inlet pH 8; recovery 8%.
Operating and Cleaning Limits
| | |
| --- | --- |
| Maximum Operating Pressure | 83 bar (1200 psi) |
| Maximum Operating Temperature | 45°C (113°F ) |
| Maximum Element Pressure Drop | 1.0 bar (15psi) |
| pH Range Continuous Operation | 2-11 |
| pH Range Short-Term Cleaning | 1-13 |
| Maximum Feed SDI(SDI15) | 5.0 |
| Free Chlorine Tolerance | < 0.1 ppm |
Notes for RO Membrane 8040
Permeate flow for individual elements may vary ±15 percent from the value specifed.
Active membrane area guaranteed ±4%.
Stabilized salt rejection is generally achieved within 24-48 hours of continuous use; depending upon feedwater characteristics and operating conditions.
Important Information
◆ It is recommended that systems using these elements rinse the elements for 24 hours, prior to first use, to meet NSF/ANSI 58 Standard.
◆ The first full tank of permeate must be discarded. Do not use this initial permeate for drinking water or food preparation.
◆ Keep RO Membrane 8040 elements moist at all times after initial wetting.
◆ To prevent biological growth during prolonged system shutdowns, it is recommended that RO Membrane 8040 elements be immersed in a preservative solution. Rinse out the preservative before use.
◆ The membrane shows some resistance to short-term attack by chlorine (hypochlorite). Continuous exposure, however, may damage the membrane and should be avoided.
Series Products of SW RO Membrane 8040
| | |
| --- | --- |
| Number | Membrane Model |
| 01 | SW Series -Seawater Desalination RO Membranes UC SW-8040-400HR |
| 02 | SW Series -Seawater Desalination RO Membranes UC SW-8040-400HRFR |
| 03 | SW Series -Seawater Desalination RO Membranes UC SW-8040-400HRLE |
| 04 | SW Series -Seawater Desalination RO Membranes UC SW-8040-400XHR |
| 05 | SW Series -Seawater Desalination RO Membranes UC SW-8040-440HR |
| 06 | SW Series -Seawater Desalination RO Membranes UC SW-8040-440HRLE |
| 07 | SW Series -Seawater Desalination RO Membranes UC SW-8040-440XHR |
* You can also check our productlist of SW Series RO Membrane to find the model you want or directly contact us to get information quickly.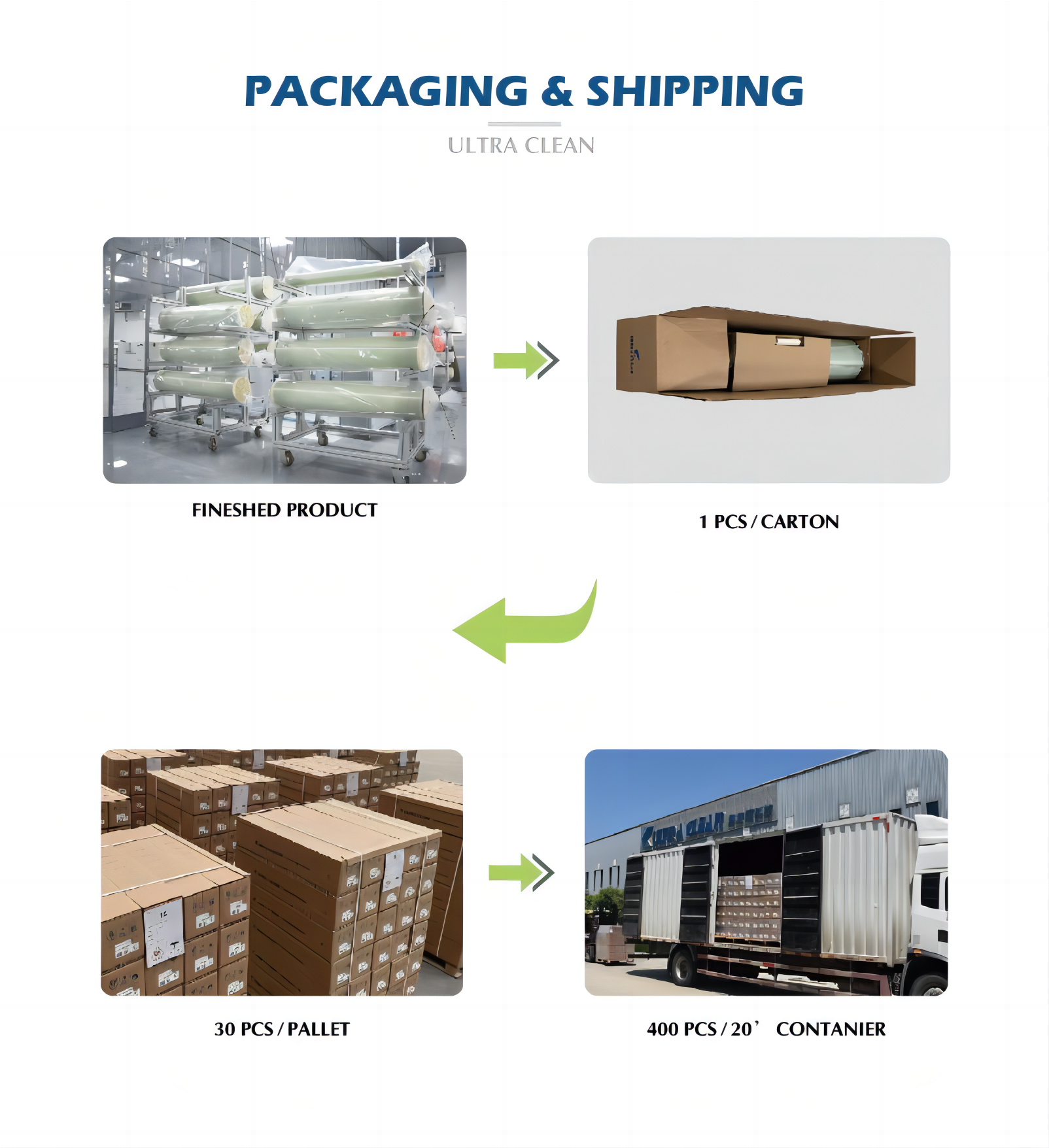 UltraClean Membrane Co., Ltd. is specialized in manufacturing high-end industrial RO membrane SW 8040 for a wide range of market applications. If you're looking for RO membrane SW 8040 for your project or seawater desalination RO Membrane replacement, welcome to contact us to get more product information and quotation!