Difference between Nanofiltration and Reverse Osmosis
Nanofiltration (NF) and Reverse osmosis (RO) are both physical separation technologies used to remove contaminates from liquid stream. Nanofiltration (NF) and Reverse osmosis (RO) technologies have become more efficient and affordable in recent years for use across a variety of industrial applications, including potable water generation and brackish water, seawater, and wastewater treatment.
However, what are the differences between nanofiltration and reverse osmosis? What filtration options might be available for separation or potable water generation in industries? UltraClean Membrane will simplify the differences between NF and RO in this article.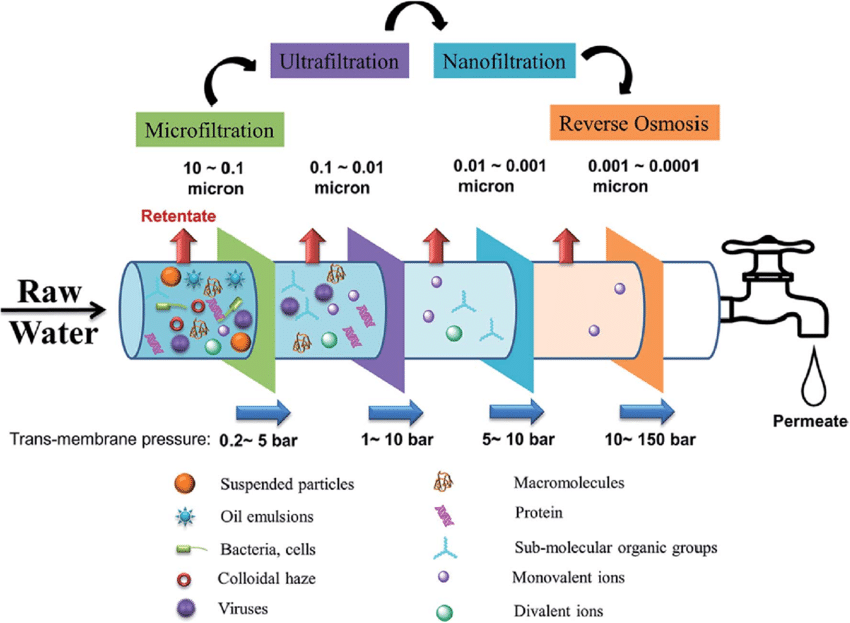 Nanofiltration (NF) and Reverse osmosis (RO) can be distinguished from the size of particulates they can remove. Comparatively, Nanofiltration (NF) and Reverse osmosis (RO) are capable of removing finer contaminates with applications including the removal of hardness, nitrates, sulfates, total dissolved solids (TDS), heavy metals, radionuclides, and organic macromolecules from treatment process of waste stream.
Nanofiltration

(NF)
Nanofiltration (NF) delivers slightly coarser filtration than RO, with the ability to remove particles as small as 0.002 to 0.005 μm in diameter. NF is a relatively recent technology that was developed mainly for potable water generation. NF removes harmful contaminates, such as pesticide compounds and organic macromolecules, while retaining minerals that RO would otherwise remove. Nanofiltration membranes are capable of removing larger divalent ions such as calcium sulfate, while allowing smaller monovalent ions such as sodium chloride to pass through.
Reverse Osmosis (RO)
Reverse Osmosis (RO) is the finest of all membrane filtration systems, with extremely small pores capable of removing particles as small as 0.1 nm. RO has existed since the 1950s, and is used chiefly for desalination, as in potable water generation from seawater or brackish water sources. Other applications of RO include filtering process water for industrial applications, such as in the printing industry, in order to sustain optimal equipment performance. RO membranes are very efficient at removing all ions, large and small.
UltraClean Membrane Can Help
UltraClean Membrane has years experience in custom RO/NF systems for industrial solutions, please feel free to contact us with your questions. Reach out us here for more information or get in touch to set up a consultation or quotation with our engineers. We can walk you through the steps for developing the proper solution and realistic cost for your RO/NF treatment system needs.

We provide the best-sellers with reasonable price:
★ Welcome to follow our update and learn more about industrial filtration and process separation technology and products. We think some of our articles might interest you.